Marine fire service and safety solutions
VIKING offers a comprehensive range of marine fire services, solutions and safety products to ensure that your onboard firefighting and protection setup is always fully compliant and ready to save lives.
​​​​​​​
Our expert marine fire service team is supported by a network of 150+ port locations served by VIKING's own dedicated workshops and annually audited, authorized service providers.
Our marine fire services and solutions
Selected solutions and services
Complete marine firefighting equipment packages





Firefighting foam concentrate supply





Full range of SOLAS/MED and USCG compliant fire suits and accessories





Medical oxygen





Fixed-price service agreements
Global service of all fixed firefighting systems





Global service of all portable firefighting systems


​​​​​​​

F

oam analysis by our class approved, high standard foam lab





Breathing apparatus equipment service​​​​​​​





Dry docking services
YOUR GLOBAL FIRE SERVICE PARTNER

A VIKING Shipowner Agreement or Offshore Safety Aggrement make it easier than ever to manage and consolidate servicing of your marine fire equipment, anywhere in the world.

​​​​​​​VIKING continually invests in your fire safety compliance, adding new capabilities and competencies to provide efficient, fast and high-quality service around the globe.
​​​​​​​Full service control coupled with highly trained, certified technicians and an advanced planning system are some of the advantages you get when choosing us as your fire safety partner.
FULL SERVICE CONTROL
All of our technicians are trained to the highest standards under certified training programs, and they have fast access to spare parts.

Hence, we control the entire service value chain, ensuring that our customers can always expect unmatched efficiency, flexibility, uniform service quality and documentation.
HIGHLY TRAINED AND CERTIFIED TECHNICIANS

Our large team of VIKING Safety Academy trained, experienced and fully certified technicians have the competences to deliver the right service solution for any project.

Also, they work to maximize compliance and safety in the process, following the mantra "either we do it right … or we don't do it…"
ADVANCED PLANNING SYSTEM
VIKING's in-house developed, digital planning system works by monitoring each ship's supply, service and inspection of fire safety needs and coordinating them with our worldwide logistics and technical capabilities.
Customer advantages include:
Advanced planning with automatic e-mail notification of service due dates

Service port pre-selected for convenience, schedule-keeping and cost effectiveness

VIKING manages, audits, and ensures certification of service providers​​​​​​​
COMPLETE FIRE SAFETY EQUIPMENT PACKAGES
Completing our scope as a true one-stop supplier for marine fire safety solutions and services, VIKING offers an extensive range of approved marine firefighting equipment, marine fire suits and fire safety appliances.

EXPLORE OUR FULL RANGE OF FIRE SAFETY EQUIPMENT
FIREFIGHTING FOAM
VIKING is your global supply and service partner for full range of high-performance firefighting foam concentrates for commercial vessels, tugboats and firefighting vessels.

Our firefighting foam range includes fluoroprotein, alcohol-resistant aqueous film-forming foams and SOLAS-approved foams for fixed fire suppression systems.
FORM ANALYSIS
VIKING offers an unbiased analysis of foam samples that are in accordance with IMO guidelines, manufacturer's specifications and parameters.

VIKING's brand new state-of-the-art foam lab offers comprehensive and independent analysis for customers worldwide. The lab verifies that foam samples perform in accordance with IMO guidelines and is also equipped to test other parameters, including foam surface tension and spreading co-efficient.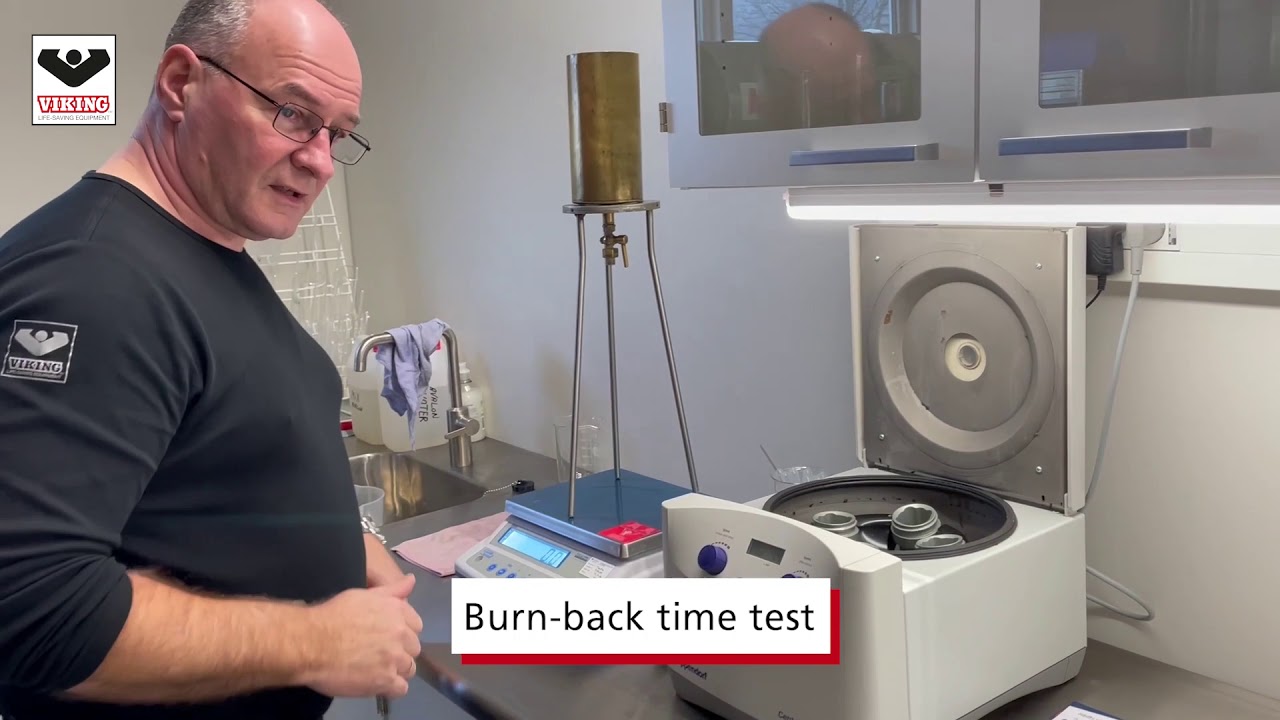 MEDICAL OXYGEN
VIKING offers a complete range of equipment, installation components, pressure regulators, spare parts, exchange, inspection and certification to fulfil the international requirements of MFAG, flag administrations and classification societies.
Browse our Marine Fire Safety brochures